Comparing (All The) Costs of Managed Hosting vs. On-Prem DIY
shannonenix
At Rackspace, companies frequently ask us what to do with legacy applications that weren't built for the cloud. They know it's critical to modernize their IT, but cost is a factor. Should they just keep running these applications in on-premises data centers? Refactor and retool to move to the public cloud? Or choose a managed hosting provider? The answer depends on the individual company and its goals, and there are indeed benefits to each approach, so it's worth diving in deeper to determine the right answer for your organization. Rackspace works with companies to help them transition IT workloads out of their data center and into the cloud, with customized solutions based on individual business goals and requirements. To ensure the most accurate results when determining the best possible solution for a customer, we use a Total Cost of Ownership methodology from Alinean, a financial analysis consultancy that provides assessment and analysis tools to help facilitate better business decisions.
We use Alinean's TCO method because it considers the broadest range of potential costs, uses historically accurate financial models and data and bases the analysis on realistic assumptions. We recently completed an in-depth TCO study with Alinean of DIY on-premises vs. Rackspace Managed Hosting services. Spoiler alert: we found many companies save between 55 and 75 percent with managed hosting compared to keeping and managing their own data centers. First though, a quick overview of the pros and cons of each option:
The TCO model in action
For a concrete example of the methodology in action, I'd like to share the use case of a company we recently worked with, which I'll call ABC Company. It's a financial services organization based in the U.S., with about 500 employees and $500 million in annual revenue. With increased growth and a need to maintain strict regulatory compliance standards for the financial industry, including PCI DSS, ABC needed to upgrade its on-premises IT infrastructure. It sought help from Rackspace to evaluate the best platform to host its business-critical, legacy apps, and to help it more efficiently transition and manage workloads in the cloud.
DIY benefits, costs
On-premises hosting has historically offered certain benefits over managed hosting or public cloud. Private data centers can provide high accessibility and control, and have been especially attractive to companies with custom-built, legacy applications that are not considered cloud-native, or companies in industries with stricter security and compliance needs. There are three types of costs to consider when deploying on-premises infrastructure:
Capital costs include server hardware, server software licensing, network infrastructure, storage and backup infrastructure.
Operational costs include server hardware support, software support, network infrastructure support, storage warranty, data center power and facilities, current system admin labor, IT training and IT staff turnover.
Indirect business costs include unplanned downtime, planned downtime and business agility. These are the hardest to measure, but each has a real impact on a company's financial picture.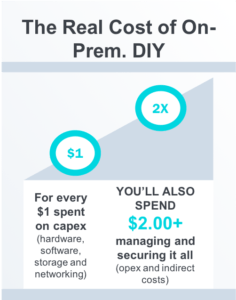 Building out and maintaining infrastructure on-premises also typically requires an increase in staff, which can be costly. Our TCO study found, for example, that for every dollar spent on capital expenses to upgrade existing data center infrastructure, companies can also expect to pay roughly $2 for managing, maintaining, and securing that infrastructure.
Managed hosting benefits, costs
Managed hosting is well-suited for legacy and web application hosting, regulated workload hosting, data center transformation, high-performance computing, data storage and analytics, data backup, disaster recovery, high availability, and test- development-operations integration (DevOps) use cases. A managed hosting solution includes servers, software, storage, networking and cloud connectivity, and can also include specialized services, such as managed security. Companies choose an operating system and the managed service provider handles the administration, management, security and support. Since no resources are shared, each company receives the full performance capabilities of the infrastructure it leases. With no data centers to build or infrastructure to maintain, companies can scale up (or down) as needed. That flexibility is critical as the IT landscape continues to evolve.
Challenges of non-cloud-native apps
ABC Company needed help to determine where to host its legacy apps, which were not built for the cloud. Initially the company was interested in converting these apps to one of the major public cloud platforms, but that ultimately proved to be more costly than beneficial. Refactoring and retooling the applications to a cloud-native design presented a high risk should something break in the conversion, a high development cost  and required a significant commitment to public cloud platforms. Rackspace recommended managed hosting, to give ABC improved IT scalability and reduce the complexity of building out infrastructure for those applications that aren't well-suited for the cloud. And because of our broad partnerships, Rackspace is able to be platform agnostic, recommending just the right platform for a company's needs, (or managing a platform the company has already chosen) whether public cloud, private cloud, dedicated hosting or colocation. Beyond that choice, perhaps the most attractive benefit for ABC was the built-in security and regulatory compliance issues for HIPAA, HITRUST and PCI DSS in our managed hosting solution, at a fraction of the cost of an on-premises solution. ABC agreed that it made more sense to choose managed hosting rather than spending the time, money and effort to migrate their legacy applications to a public cloud, or stay put in their existing data center. By choosing managed hosting, ABC reduced overall IT costs, minimized capital expenditures and jumpstarted its transition out of its data center and into the cloud.
Unexpected benefits
In addition to lowered costs, ABC also discovered two unexpected benefits that heavily favored into its decision to go with managed hosting. The first was advanced security against an ever-evolving threat landscape. Cybercriminals are getting more advanced with their techniques — gone are the days of crude phishing emails full of typos. As attacks become more sophisticated, security defenses must keep pace. Between defensive infrastructure, vulnerability management, threat intelligence, compliance, data protection, application security, firewalls and a fully-staffed 24x7 security team, those costs can add up. Because managed hosting provides a secure environment for your infrastructure, your in-house IT teams can focus on improving products and services. More than half of all companies surveyed in a recent Tech Pro Research report experienced a risk decrease following an IaaS implementation. The second unexpected benefit was cloud connectivity — the ability to connect to other data center locations or the public cloud of ABC Company's choice, using RackConnect Global technology, pairing traditional hosting with multi-cloud flexibility.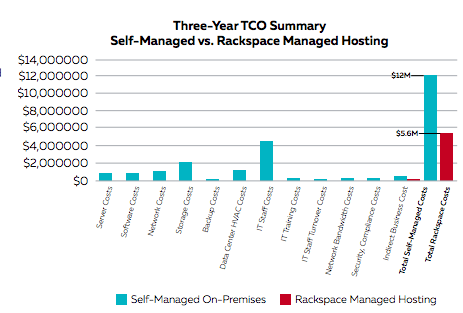 Adding security and cloud connectivity to their data center would have cost ABC more than $600,000 per year. Had the company chosen a go it alone approach, it could expect to spend more than $12 million on capital and operating expenses over three years. By choosing Rackspace Managed Hosting, ABC will spend roughly $5.6 million in capital and operating expenses over the same time frame — saving more than 50 percent over the DIY option. If you're thinking about a cloud migration, consider all the costs and benefits of each solution. Take advantage of our full report, "Should I Migrate to Managed Hosting?" which offers a detailed analysis and breakdown of potential expenses.
Get the Right fit for the Highest Returns