Fast, reliable hosting for your web content management system
Your web site is critical to your business. Long page load times and even minimal downtime can measurably impact your bottom line.
That's why we have a team of web content management (WCM) specialists focused exclusively on keeping your WCM environments up and running-all of the time. Even when traffic spikes, our platform scales to the capacity you need. And proactive performance monitoring allows us to anticipate and respond to events in your environment before they become issues instead of after.
Get more than just infrastructure support. It doesn't matter which WCM platform you choose, we offer 24x7x365 Fanatical Support®—from infrastructure through the application layer.

Experience
Our specialists have years of experience hosting thousands of commercial and open-source WCM environments. Because we've worked with so many global brands, customers, and top digital agencies, we understand how to build a best-fit environment that's optimized for your specific needs.

Responsiveness
We're on the job 24x7x365-identifying and resolving issues in your WCM environment before they impact your business. Whether it's test/dev, staging, or production, you can feel safe deploying as many environments as you want, when you want, without disrupting your online business.

Reliability
We use platform-specific best practices to architect a hybrid environment that combines the best of the public cloud and dedicated hardware—for optimum performance and scalability that's consistent across geographies. We back that up with our 100% Production Platform Uptime Guarantee.
From implementation to deployment, we're here to serve you
Let our team help design, install, and configure your WCM environments, optimized around your requirements and WCM platform of choice. We'll also provide ongoing, proactive planning and 24x7x365 support, so your online business can serve your customers reliably, around the clock.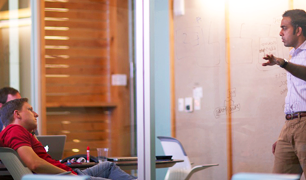 "Rackspace reliability gives Acquity Group the freedom to focus on creating great apps and onboarding customers without worrying about infrastructure."

– Kevin Ellenwood, VP of Shared Services, Acquity Group

"Rackspace isn't just another one of our vendors; they are partners and an extension of our team. They treat our clients' needs as a top priority, and move at an agency's pace."

– Ray Velez, Global Chief Technology Officer, Razorfish
Consult with a specialist about your WCM needs.