We see that you are viewing the US version of our website from another country. If you would like to view a local version of our website, please click the link below...


Security is a partnership.
Your applications and infrastructure require a secure environment to keep your business running strong. To achieve this, it is vital that everyone involved clearly understands the processes and the proactive and reactive measures that need to be put in place.
That's why, at Rackspace, we believe that security is a partnership —a shared responsibility between you and us. This collaboration requires input from your business and technical experts, our architects, security experts, and operations personnel. Each of us has a role to play in protecting your application's infrastructure and data.
And when we understand these roles and responsibilities, we can work together and build a relationship that's built on trust.
"It doesn't get much more important when you're an ecommerce company than running the infrastructure that runs your site. That's your product. And so you have to have somebody that you trust in order to do that. If that service goes down, our company is down, our revenue stops. And because of that, we consider Rackspace a trusted partner."
Gary Rush
CTO, Karmaloop.com
#138 of Internet Retailer's Top 1000 Web Retailers of 2012
Here's what it looks like. Our security management model consists of four main stages: Plan, Do, Check, Act, as recommended by the ISO 27001 standard.
Our Customer Security Program, built on the foundation of this model, combines Rackspace expertise with technology and services. The result? A differentiated service level for you and your business goals-whether on dedicated infrastructure or on our public cloud, by leveraging our trusted relationship with customers like you.
Find out more about our holistic approach to security. Download PDF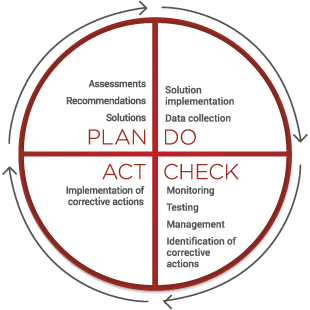 Security management
With the continued rise in information security breaches, our customers and prospects have questions about the risks of adopting cloud services. Here, you'll find answers. Learn about our security and compliance services, and how we work to protect Rackspace's information and physical resources.
Learn More
Security solutions and services
Rackspace has a wide breadth of experience with customers' hosted environments-so we can help you by providing the infrastructure and solution requirements that will help meet your specific needs. Learn about our PCI services, as well as threat protection such as DDoS Mitigation Services and vulnerability assessments.
Learn More
Resources
Check out our library of informative whitepapers, reports, and blog posts, focused on security and its impact on businesses like yours. We've also included reports from independent sources, giving you an unbiased opinion on steps you should take when considering security in the cloud.

Find out more

©2013 Rackspace, US Inc.
| | | | | |