We see that you are viewing the US version of our website from another country. If you would like to view a local version of our website, please click the link below...


Complimentary cloud and VM migrations
We can complete most 1:1 migrations (that is, to the same server and operating system) within 5 business days from the time you provide us with your server credentials. Usually, free of charge. Our dedicated team of migration specialists keeps you up-to-date throughout the transition. Whether you're moving from another provider on your own in-house server environment, our knowledge and experience can ease your transition.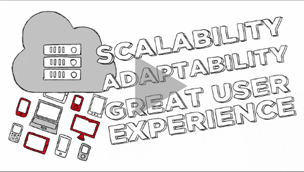 "You have been a tremendous help and the migration has been a success! Thanks for the excellent customer support. Cheers!"

– Alex Bryant, Trancos Inc.

"I would like to commend the Rackspace Migration Team for their excellent job with Vtrim's recent migration but more importantly for their EXCELLENT customer service. We are very glad we went with Rackspace. Thank you!"

– Judith M. Comfort, Vtrim

"I can't thank the Rackspace team enough."

– Jon Thornham, FLO Cycling
How it works

Let us help you migrate to the Rackspace public cloud.
Prefer to

do it yourself?

If you're ready to perform your own migration, feel free to use our tools! Our migration utility streamlines the process. For more information, visit the public code repository on GitHub or simply install the Ruby gem. Our migration utility is open-sourced by Rackspace under an Apache 2.0 license.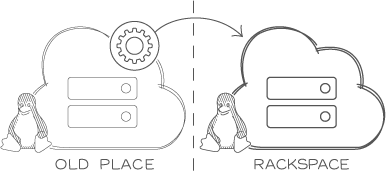 Frequently asked questions
What types of server migrations do you provide?

We provide a broad range of migrations to the Rackspace public cloud from physical (bare metal) servers, virtualized servers, dedicated servers (hosted at Rackspace), and other cloud service providers.

I have 50 servers in the Amazon Web Services (AWS) cloud. Can you help migrate them to Rackspace?

Yes. We have highly experienced Rackers who have migrated everything from simple applications on AWS to complex deployments. Depending on the operating systems, and system configurations we are happy to assist you in your migration to Rackspace.

Which server operating systems do you support for cloud migrations?

We support both Linux and Windows migrations. Following are the supported server operating systems for our cloud migrations. If your operating system is not listed here, please contact us with your need and we will make every effort to assist you.

| | | | | | | |
| --- | --- | --- | --- | --- | --- | --- |
| Amazon Linux | CentOS 5 | Debian 5 | Fedora 14 | RHEL 5 | Ubuntu 8.04 | Windows 2008 R2 |
| | CentOS 6 | Debian 6 | Fedora 15 | RHEL 6 | Ubuntu 10.04 | Windows 2012 |
| | | | Fedora 16 | | Ubuntu 10.10 | |
| | | | | | Ubuntu 11.04 | |
| | | | | | Ubuntu 11.10 | |
| | | | | | Ubuntu 12.04 | |

How much does migration to Rackspace cost?

If your server setup is a 1:1 migration, there is no charge. For complex migrations, we price based on the configuration and time required to migrate-contact our Professional Services team at 1-800-440-2149 for details.

How long does it take to migrate my servers to Rackspace?

Many server migrations can be completed in as few as 5 days. The migration process itself, however, is a partnership between you and the migrations team. Please consider your availability and resources when planning your migration, as they will be needed for your testing phase of the migration and will impact the overall timeline of the transition.

Is the migration manual or is it automated?

We use a combination of automated tools and experienced Rackers to perform the migrations. At each step of the migration, we stay in close touch with your teams to help you get a successful outcome.

What server information do you need for the migration?

Once you submit your migration request, our cloud migration specialists will discuss available approaches with you, depending on the operating system of your servers and deployment type. We use a proprietary, automated cloud migration profiler tool to collect basic system information such as server platform and architecture, uptime, disk usage, average I/O wait, memory statistics, IP allocation, and system libraries, and to determine "fit" for migration.

What if I am not satisfied with my migration?

We pride ourselves on our Fanatical Support®. Our migration experts will remain available to you until you are fully satisfied with your transition. As the final step in your transition, our Migration Team will introduce you to your new account to your support team, when applicable.

©2014 Rackspace, US Inc.
| | | | | |