We see that you are viewing the US version of our website from another country. If you would like to view a local version of our website, please click the link below...


Faster time to insight
Running Apache Hadoop clusters at Rackspace lets you make the most of your data. It's your choice: run Hadoop on Rackspace managed dedicated servers, spin up Hadoop on the public cloud, or configure your own private cloud. Either way, you can rapidly provision Hadoop-optimized clusters, and start turning your data into powerful knowledge that can help shape your business.

Managed Big Data Platform
Customize your big data configuration—with your choice of storage devices, platforms, architectures, and network designs. Learn more

Cloud Big Data Platform
Get Hadoop on demand, with easy pricing and simple scalability—powered by the Hortonworks Data Platform (HDP). Learn more

Big Data on the Rackspace Private Cloud
Deploy clusters in your data center or ours. Easily create multiple environments for performance optimization. Learn more
"Actian is an upstart technology company challenging the establishment of great BIG tech vendors. We chose Rackspace to partner with because we believe their customer service is a differentiator for us to our customers."
Fred Gallagher
General Manager of Vectorwise, Actian
Real help managing your dedicated Hadoop infrastructure
Thousands of businesses count on Rackspace due to our experience, commitment to transparency, and responsiveness. And when you need Hadoop expertise, our partnership with Hortonworks ensures you'll get to talk with a true Hadoop guru-at no extra cost.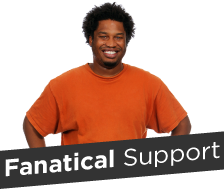 Find out more about early access
Other Solutions
Rackspace can help you manage IT across your entire business. Learn about our hosting solutions:

©2013 Rackspace, US Inc.
| | | | | |