Quickly spin up a complete production environment
Build a complete environment on our high-performance public cloud with just a few clicks. That includes setting up servers, databases, and load balancers, plus software installation and configuration. Using our control panel, you select the application or framework you need, and the deployment service takes care of the provisioning, deployment, and software installation, automatically.
Save time
Get a full production environment, plus all the software, in minutes—so you can spend your time innovating, not installing.
Benefit from best practices
We've managed, scaled, optimized, and helped troubleshoot thousands of cloud deployments. And the blueprints used to build your deployments come from best practices, formed from years of experience.
Get optimal performance
With our cloud deployment service, you'll have confidence that your application has the proper configuration, optimized for a cloud environment.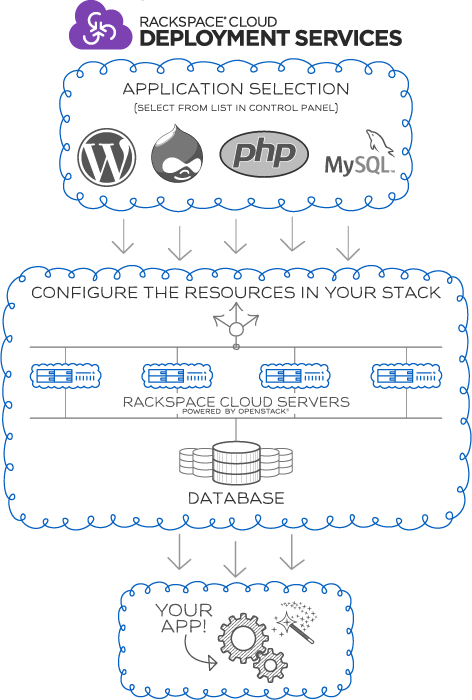 Applications and Frameworks
You choose the app or platform that you want, and we do the rest. Our growing catalog of apps consists of content management systems, web application frameworks, and various database and storage applications including: WordPress, Drupal, PHP, Ruby on Rails, MySQL, MongoDB, Cassandra, and more.
Support
When you sign up for our public cloud, you get our 24x7x365 Infrastructure Service Level with Fanatical Support® included. But if you need help planning, architecting, maintaining, and optimizing your cloud, sign up for an account with a Managed Cloud Service Level.
Pricing
Pricing for the application deployment service is simple. There is no charge for deploying the application you choose. You only pay for the products you select when building your deployment. Learn more about product pricing.
Sign up for a cloud account to start using our application deployment service.