Logging into your server with RDP (Mac)
Article ID: 371
Last updated on December 30, 2013
Authored by: Rackspace Support
---
You can easily connect to your Windows Cloud Server with your Macintosh! You simply need to download the Microsoft Remote Desktop (RDP) Client for the Mac!
Downloading
To download the client you'll need to visit the Microsoft website to download the Remote Desktop Client for Mac.
At the time of the most recent update to this article, the current release of the Remote Desktop Client for Mac is version 2.1.1
You can view the Details and Install Instructions by clicking the + to expand the menu.
Running Remote Desktop Client
To run the Remote Desktop Client you'll need to open up your Applications folder inside Macintosh HD. You'll find an icon in there that looks like the one below... double-click it.

You'll be presented with a window like the one below. Simply type in your Rackspace server's IP address and click the Connect button.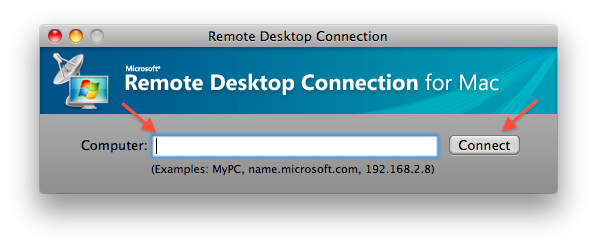 You'll be prompted with a box asking for your login credentials.
If this is the first time connecting to a new Windows Cloud Server, enter the username: administrator with the 'Root Admin Password' provided in the Rackspace Control Panel when the server was created.
Click OK to connect.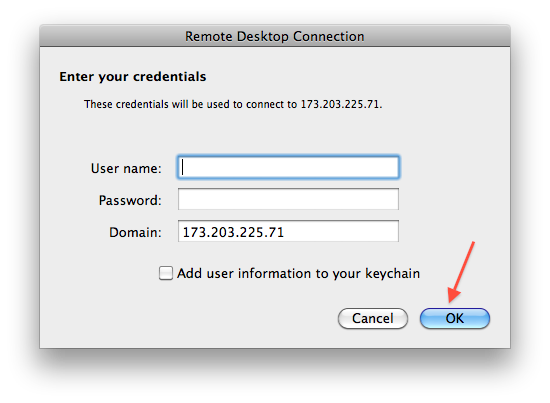 You may be prompted by a notification that the name on the certificate is incorrect. Press Connect to continue.
You will then log directly in to your new Windows Cloud Server.
Next you may want to create a new user to login with besides administrator, use this opportunity to change the administrator password from the default provisioning password.
© 2011-2013 Rackspace US, Inc.
Except where otherwise noted, content on this site is licensed under a Creative Commons Attribution-NonCommercial-NoDerivs 3.0 Unported License
See license specifics and DISCLAIMER