Rackspace Cloud Essentials - Creating an Inbound Predefined Allow Rule for Windows Firewall 2008
Article ID: 317
Last updated on April 17, 2014
Authored by: Rackspace Support
---
Creating an Inbound Predefined Allow Rule
1. Launch Windows Firewall with Advanced Security by clicking on Start > Administrative Tools > Windows Firewall with Advanced Security.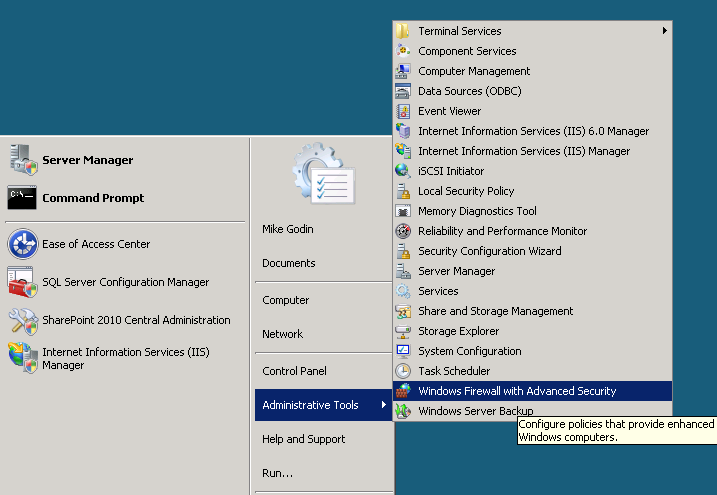 2. Select Inbound Rules in the left pane and click New Rule under Inbound Rules in the Actions Pane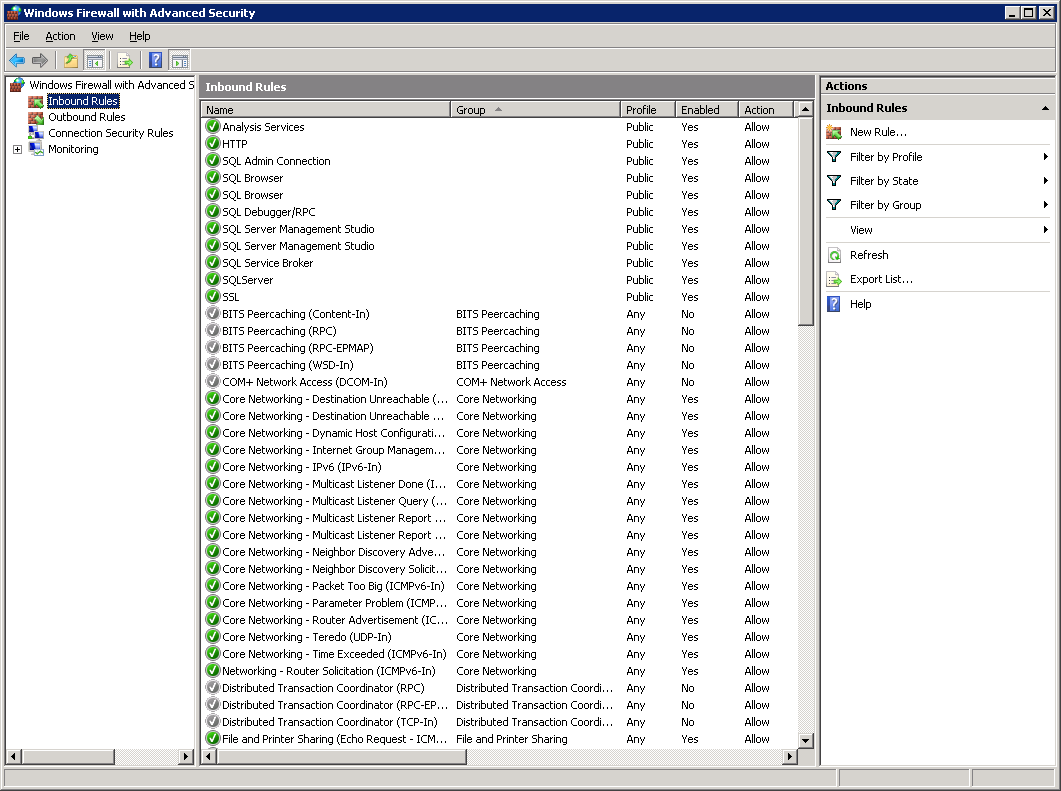 3. The New Inbound Rule Wizard will launch. Select Predefined. Clicking on the drop down list will show all the predefined rules. What appears on this list will be determined by what roles and features are installed on your server. If you do not see what you are looking for make sure the role or feature is installed. Selected something from the list and click Next to continue.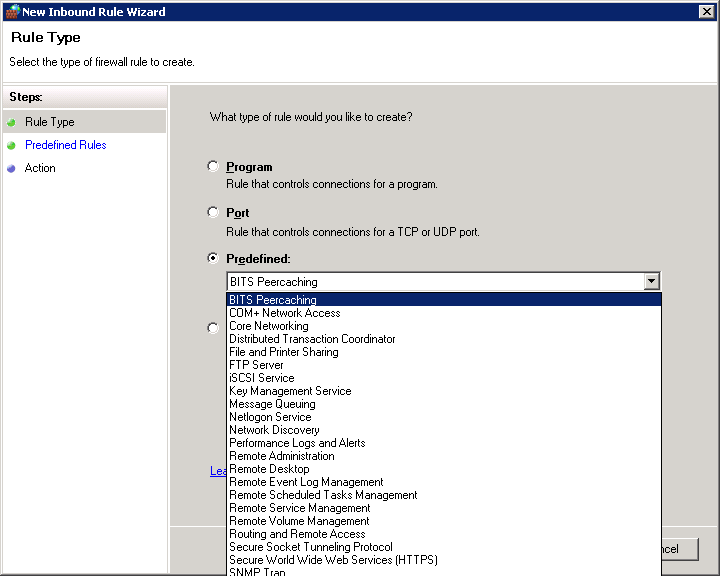 4. This screen is to select the name of the rule you want to create select it by placing a check next to it. Click next to continue.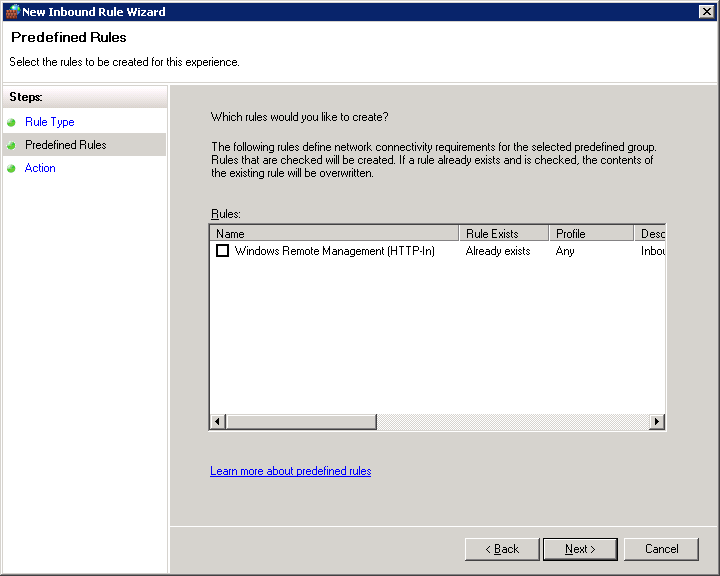 5. Since this is for an allow rule you will need to select weather to allow this traffic for all connections (secure and insecure) or only if the connection is secure. If you require the connection to be secure you can also specify if it also requires Encryption or if it overrides block rules. Click Next to continue.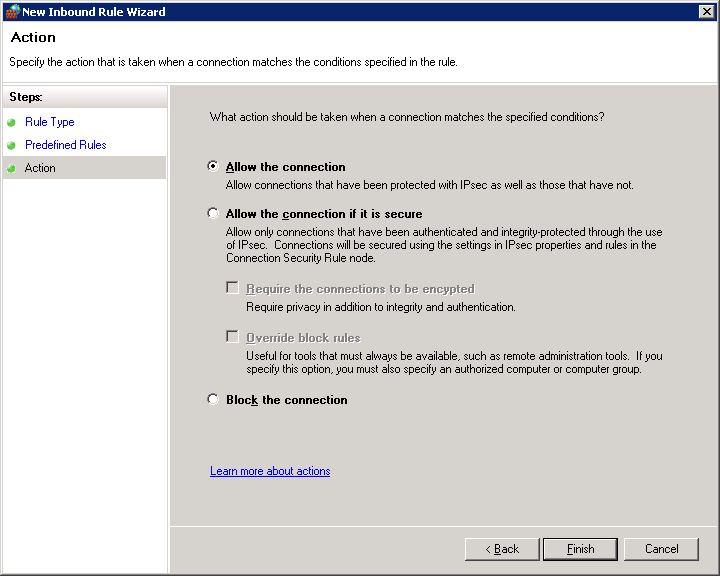 6. On this screen you can select which profiles the rule applies to. Domain applies when the inbound connection is coming from a computer within the domain. Private applies when the inbound connection is coming from a source that has selected Private for it's profile. Public applies to all connections coming from a source whose profile is set to Public. You can select one, two or all three. Click Next to continue.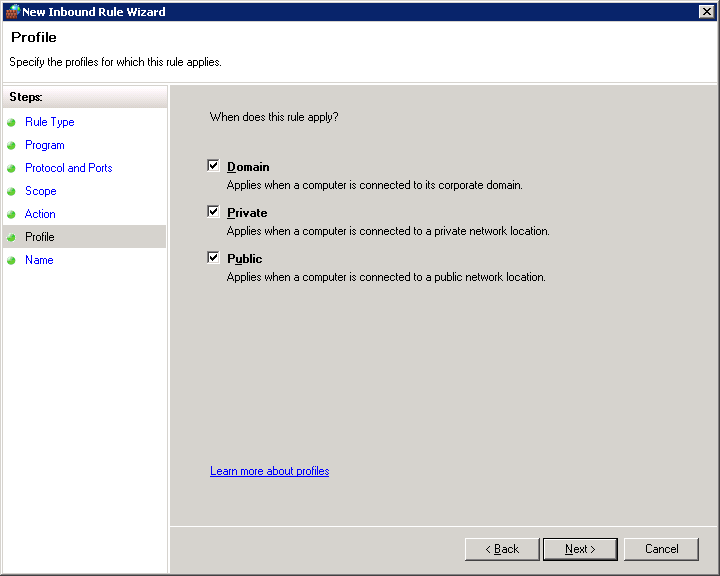 7. This is the screen were you will give the rule a name and any description you would like to specify. Click Finish to create the rule and go back to the main screen.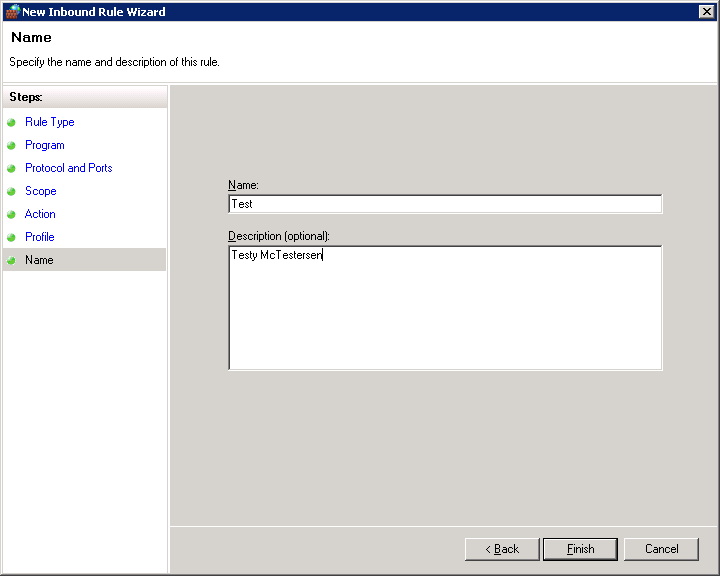 So what do you do if the Inbound Allow Rule for a custom service and the Rule that you want to create is not Pre-Defined?
© 2015 Rackspace US, Inc.
Except where otherwise noted, content on this site is licensed under a Creative Commons Attribution-NonCommercial-NoDerivs 3.0 Unported License
See license specifics and DISCLAIMER