Dedicated VMware® vCenter Server™
Seamlessly extend your existing VMware environment into your Rackspace-hosted infrastructure. Using either the VMware vCenter console or familiar API-compatible tools, you can manage both your on-premise and hosted environments, gaining agility while maintaining the level of control you require. Plus, you benefit from the expertise of our 24x7x365 VMware support, and the reliability of our industry-leading SLAs.

Maintain control
We expose the VMware vCenter Server API so you can manage both on-premise and hosted environments using your existing native applications and skill set.

Increase your IT team's agility
Create VMs instantly using familiar orchestration platforms. We deploy hardware in as little as 5 days from your project's start date.

Reduce your risk
Our data centers have a reliable track record of over 99.999% uptime—that's less than 5 minutes of downtime per year.

Benefit from
robust SLAs
We offer a 100% Network Uptime Guarantee and
a 1-hour Hardware Replacement Guarantee.
Expertise
We're here when you need us-anytime, day or night. Our 14 years helping thousands of customers have given our team deep experience designing, managing, optimizing, and troubleshooting environments like yours.
We've hosted VMware implementations since 2006.
Our team of VMware Certified Professionals (VCPs) can help architect, deploy, and troubleshoot even the most complex of environments.
We make our team available to you around the clock.
As pioneers in managed hosting, we've delivered Fanatical Support® since 1998.
Gartner's Magic Quadrant for Managed Hosting, North America and the Forrester Wave™cite Rackspace as a leader.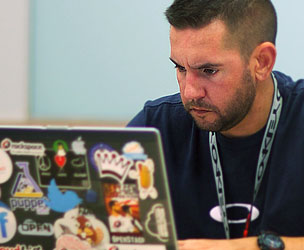 Keep control of your VMs and deliver them more quickly.