Tailored to fit your needs
Have strict performance or compliance requirements? Let us work with you to customize a hosting architecture that delivers the fast performance and uptime your business needs. Plus, you can contact us anytime for answers or guidance. As a Rackspace customer, you'll benefit from our years of experience planning, deploying, and managing configurations for all kinds of companies. Here are a few reasons our happy customers choose Rackspace:
Uptime
World-class infrastructure with industry-leading SLAs, including a 100% Network Uptime Guarantee
Add a 100% Production Platform Uptime Guarantee when you choose Critical Application Services
Managed Support
24x7x365 access to a Dedicated Support Team that provides Fanatical Support®
A provider recognized as an industry leader in Gartner's Magic Quadrant for Managed Hosting
Discover why thousands of customers host with us
Choice
Combine the performance of dedicated servers with the flexibility and scalability of cloud when you choose our hybrid cloud
Enhance security using Managed Services: firewall, backups, and more
"We're now pretty close to 100 percent uptime. We're still adding patches today, but the site now has the appearance of extreme uptime - because Rackspace is on it immediately if it ever goes down."
Brandon Nott
Online Programs Coordinator, Bluetooth SIG.
Managed Hosting solutions
From bare metal dedicated servers to virtual servers, we can customize the single-tenant hosted environment for you. Plus, no matter what you need, you get access to our experienced support specialists and Fanatical Support.
With Rackspace support, you're never alone
No matter the size of your business, at Rackspace you get support that goes far beyond ordinary. From planning your configuration to everyday maintenance, Fanatical Support is here to help, 24x7x365. Learn more about our service levels.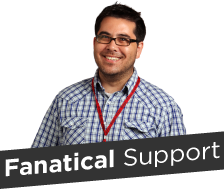 Let us help build your infrastructure — call 1-800-961-2888 or