We see that you are viewing the US version of our website from another country. If you would like to view a local version of our website, please click the link below...


Rackspace Opens the Cloud with OpenStack®
An innovative, open-source cloud computing solution for creating, managing, and deploying scalable elastic cloud services.
As the leading specialist in the hosting industry, we take our responsibility to drive innovation seriously. And with our newest project, OpenStack, we've lived up to that - and more. On July 19, 2010, we announced that we are opening the code on our cloud infrastructure. That's big news for us and for the hosting industry in general. The result? Cloud technology will never look back.
OpenStack is an open-source cloud platform designed to foster the emergence of technology standards and cloud interoperability.
The initial components being offered through this project include the code that powers our
Cloud Files
and
Cloud Servers
. Leaders in the technology industry and other stakeholders support the project and are expected to help us drive a deployable, completely open cloud solution.
What does an open cloud mean for you?
Prevents vendor lock-in
Increases flexibility in deployment for a highly elastic commodity cloud
Offers a bigger, more robust ecosystem for more tools, better capabilities and a stronger platform
Gives you the freedom to decide how you want your cloud
Drives greater industry standards
Increases the speed of innovation in cloud technologies


Learn About Our Managed Hosting Services
Learn About Our Cloud Hosting Services
Learn About Our Email & Apps Services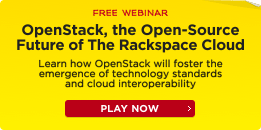 In addition to the OpenStack project, Rackers are actively participating in a variety of other open source projects.
Drizzle
A Lightweight SQL Database for Cloud and Web
Learn More
Cassandra
A highly scalable database
Learn More
IUS Community
Providing the latest upstream stable versions of software built for Red Hat Enterprise Linux
Learn More
Cloud Deployment Toolkit
Create and work with a full clone of the production environment
Learn More
Virtual Machine Builder
Install virtual machines in a snap without ever actually booting a virtual machine
Learn More
Rackers are also contributing to other open-source projects:
Libcloud
-
incubator.apache.org
Gearman
-
www.gearman.org
Memcached
-
www.memcached.org
Ubuntu
-
www.ubuntu.com
MySQL
-
dev.mysql.com
Chef
-
www.opscode.com
KVM
-
www.linux-kvm.org

©2014 Rackspace, US Inc.
| | | | | |