The Rackspace toolbox
What do you want to build?
Available with a Rackspace cloud account. Click a product below to learn more.
Business Applications
Rackspace Email
Microsoft Applications
Databases
Compute
Cloud Servers

Cloud Sites

(PaaS)

Managed Dedicated Servers
Private Clouds

Managed Virtualization
Managed Colocation
Storage & Data
Cloud Files

Cloud Block Storage
Cloud Databases

Managed Storage


(NAS, SAN, DAS)
Monitoring
Load Balancers
Networks
Content Delivery Network
Backup & Replication
DNS Service
Control Panel & API Access
Platform & Networking
Rackspace Email
Get affordable, ad-free business email you can access from your desktop, browser, or mobile device.
Microsoft Applications
We know Microsoft and how to support it—from SharePoint® to SQL Server® to Exchange®.
Databases
Our certified Database Administrators (DBAs) provide Fanatical Support® for your mission-critical databases.
Cloud Servers
Provision on-demand Windows® and Linux servers in minutes, and pay as you go.
Private Clouds
Build a private cloud in your data center or ours.
Cloud Sites
Enjoy a simple, reliable platform for hosting websites and blogs.
Managed Virtualization
A managed, VMWare-based virtual environment for single servers or private clouds.
Managed Dedicated Servers
A single-tenant environment for your data, without the hassles of deploying and managing.
Managed Colocation
Get the OS and device control of traditional colo, backed by Fanatical Support®.
Cloud Files
Serve files and media to visitors around the world at blazing speeds.
Cloud Block Storage
Get more storage—or higher performance storage—for your data.
Cloud Databases
Enjoy high-performance hosting for your MySQL databases.
Managed Storage
Whatever your data storage needs, we'll help you implement the right solution.
Monitoring
Keep track of your infrastructure's availability.
Load Balancers
Get reliable failover for high-traffic sites and application.
Networks
Provision private, software-defined networks within the Rackspace Cloud or your own data center.
Content Delivery Network
To deliver your data at lightning-fast speeds, we integrate with Akamai's CDN.
Backup & Replication
Prevent downtime with our disaster recovery services.
DNS (Cloud & Dedicated)
Easily manage domains, subdomains, and DNS records.
Control Panel
We provide simple control of your cloud via our Control Panel interface or API.
RackConnect™
Get the elasticity of cloud hosting, combined with the security and control of traditional hosting in our data center.
Common reference architectures
Cloud Development
Load Balanced Cloud
High Availability Cloud
Dedicated
Hybrid
High Availability Hybrid
Private Cloud
Cloud Development

Low cost
Rapid deployment
Scalable cloud infrastructure and storage
Utility pay
Linux or Windows
Managed service level available for Cloud Servers
Load Balanced Cloud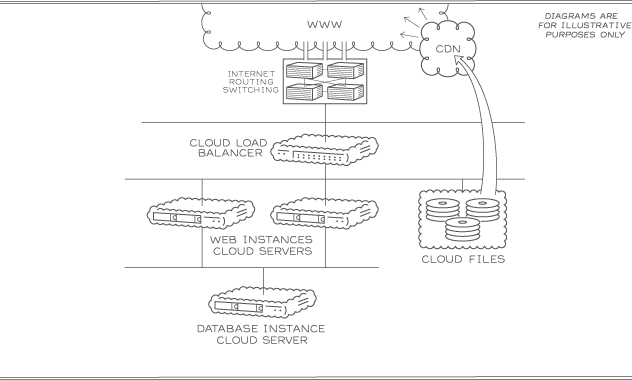 Scalable cloud infrastructure and storage
Rapid deployment
Utility pay
Low cost
Linux or Windows
Managed service level available for Cloud Servers
Not ideal for sites with specific compliance needs
High Availability Cloud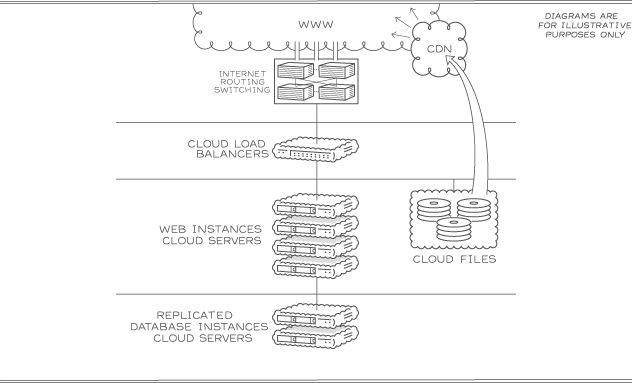 High availability
Scalable cloud infrastructure and storage
Rapid deployment
High capacity
High performance
Utility pay
Linux or Windows
Managed service level available for Cloud Servers
Not ideal for sites with specific compliance needs
Dedicated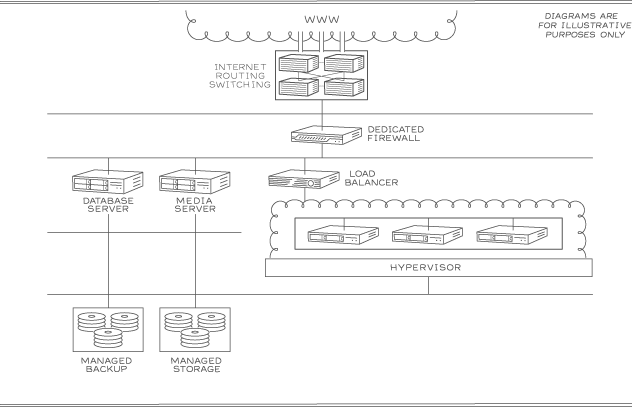 Highly secure
Rapid deployment
Scalable dedicated infrastructure
Maximum resource utilization with Private Cloud
High performance and reliability
Highest levels of monitoring
Hybrid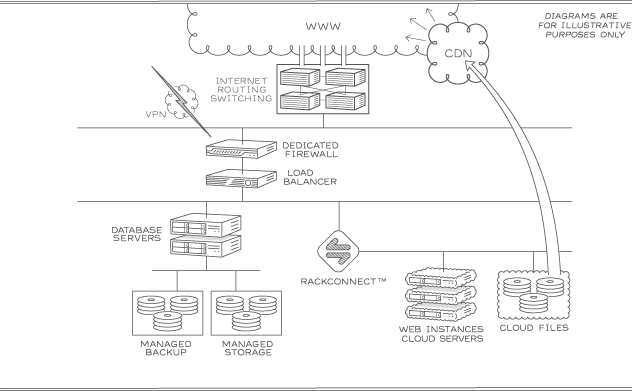 Improved security
Easily scalable Cloud Servers and Cloud Files storage
High performance dedicated backend and networking devices
Highly complex and customized configurations
High Availability Hybrid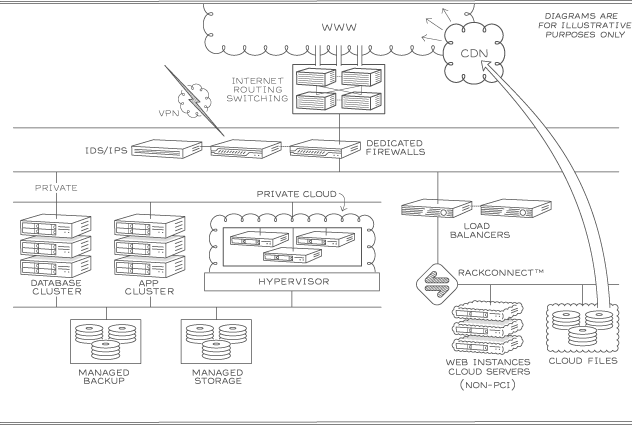 High availability
Improved security
Easily scalable Cloud Servers and Cloud Files storage
High performance dedicated backend and networking devices
Highly complex and customized configurations
Private Cloud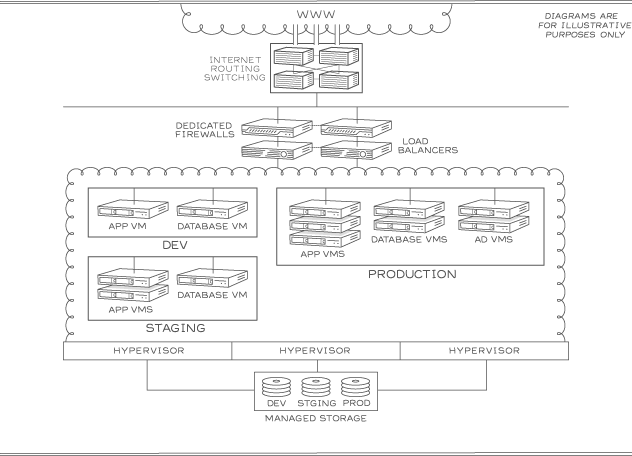 Optimize resources via private cloud
Isolate WMs for dev, staging, and production
Scale VM resources and deploy quickly
Managed storage for dev, staging, and production
Highly secure
Managed support for staging troubleshooting
Load testing available
Linux or Windows
Redundant network layer
Highest levels of monitoring
Other Hosting Solutions
Rackspace can help you manage IT across your entire business. Learn about our hosting solutions: