Improve your database design & performance
Put our team of DBAs to work for you. We're with you through every stage of your project, from architecture and design to administration and monitoring. And we're available 24x7x365-ready to help you with any MySQL, Oracle, or MS SQL Server database running on dedicated hardware or Rackspace Cloud Servers.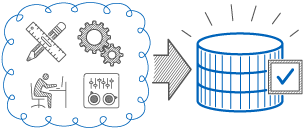 Design the right database architecture
Our DBAs will help you across your project lifecycle, including during the critical early decisions of application architecture—such as business continuity, replication, data model, and key query optimization.

Improve uptime and reduce incidents
Our services include migration, backup, restore, and advanced monitoring of your database in production, with a 5-minute notification time to reduce downtime and incidents that may impact your business.

Focus on your business requirements
Certified DBAs are a scarce and expensive resource. By relying on DBA Services for your Oracle, SQL Server, and MySQL databases, your current team can focus on implementing strategic improvements, while we handle the maintenance and troubleshooting.

Reduce the burden on your IT staff
Your business does not sleep, and neither do we. Our DBA Services team will look after your application 24x7x365, using our toolset of database health monitoring, replication monitoring, backups, and recovery, as well as customized maintenance plans.
Certified DBA expertise for your application
If your account includes a Rackspace Managed or Intensive Service Level-or Managed Cloud Service Level-you already get a set of basic database support services for your Microsoft SQL Server and MySQL setups. But by adding Rackspace DBA Services, you get certified database expertise for everything from architecture and design, to administration, monitoring, and troubleshooting-on any MySQL, Oracle, or Microsoft SQL Server running on dedicated hardware or the Rackspace public cloud.
Database-specific support included with Managed & Intensive Service Levels and Managed Cloud Service Level
Basic database installation and configuration
Installation of database software and basic configuration
Configuration of backups
Installation & configuration of clustering
Basic troubleshooting
Alerts and escalations
Service and database server failures
Database restore after a server failure
Selective or partial restores are charged on an hourly rate
Basic administration and monitoring
Managed patching and updates
Port monitoring
Upgrades of Microsoft SQL Server versions
Service packs (only at customer request)
Get more with DBA Services
Architecture and design
Architecture development and recommendations
Analysis and improvement recommendations
Database replication
Security and object administration
Database and schema export and import
Query optimization and log file maintenance
Configuration of mirroring and log shipping
Performance issue diagnosis
Performance consultations
Code analysis (review and recommendation of modifications to your SQL code)
Support for languages, frameworks, application servers, and business applications

Languages and frameworks: Java, .NET, Ruby, Python, PHP, Rails
Web and application servers: WebLogic, Tomcat, Apache, IIS, Websphere, JBoss
Applications: Adobe EMS, Fatwire, Oracle Commerce
Other: Coherence, Endeca, Hudson
Advanced administration and monitoring
Replication monitoring
Advanced restores from backups
Database migration within Rackspace DCs
(For migrations from customer's data center to Rackspace, please contact Rackspace Professional Services)
Disk backup at your request
Point-in-Time recovery
Customized maintenance plans
Modification of data beyond restores
Database health monitoring
Troubleshooting
Troubleshooting database maintenance operations, performance and availability issues in production
Database backup issues
Cost-effective DBA expertise
The average salary of certified DBAs in today's market can easily reach six figures. Plus, the tools and licenses required to manage and monitor databases can cost thousands. More importantly, your staff may already be overburdened with your current workload.
But with Rackspace DBA Services, you get the DBA expertise you need, when you need it, without the high price tag.


Put our DBAs to work for you