Place and Receive Phone Calls (and SMS) from your Rackspace Cloud Server
Filed in by Angela Bartels | June 8, 2010 11:11 am
Cloudvox is a featured partner on our Cloud Tools website.[1] The following post is written by Troy Davis, co-founder of Cloudvox. To learn more about our Cloud Tools program, email paul.ford@rackspace.com[2].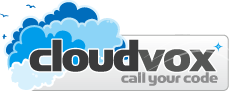 Cloudvox provides Asterisk hosting, phone call and SMS API, controllable by (and from) existing Rackspace Cloud Servers[3]. In this post, I will tell you how.
How It Works:
Cloudvox exposes a full-featured "Asterisk in the cloud" hosting environment, accessible over the Internet.  Your Asterisk apps tell Cloudvox what to do on the call: collect digits, play MP3s, start conference calls, and more.  Phone call apps can reside anywhere on the Internet, including on an existing Cloud Server.
Cloudvox is free to sign up and develop with, then entirely pay-as-you-go.  SIP access within Cloudvox is free, so testing costs absolutely nothing.  Phone numbers are available in 35 countries.
WHAT CAN I MAKE?
It's like having your own private "telecom slice" that scales way up or way down.  For example:
Make a PHP script that answers a customer's phone call, prompts the caller to enter an order number, and reads back the order status (or even sends back an SMS).
Point an existing Asterisk (AGI) phone call app at Asterisk so it seamlessly scales from 1 to 10 to 100 callers.  Your app can use Ruby, PHP, Perl, Java, C#, or any common programming language: because Cloudvox adopted an open standard, if your app works with Asterisk, it works with Cloudvox.
Integrate ad-hoc conference calls with your collaboration service.
Using Cloudvox's free SIP support, let support staff click an intranet link to connect their softphone to the customer they're looking at.  Offer an option to record the call.
Don't need the full power of Asterisk?  Write a lightweight app in JSON in a few minutes, then host it on Rackspace Cloud Files [4]or any HTTP-accessible system.  Here's a sample: http://gist.github.com/204820[5]
SMS API
SMS is becoming the bridge between the smartphone generation and owners of older phones.  Even among iPhone users, texting is still one of the most common activities.
Cloudvox is actively beta testing SMS support.  It's notable for a few reasons:
No short code required.  Short codes cost over $1000/month just to maintain, and made SMS prohibitive for all but the largest sites.
No shared access codes.  Telling users to prepend a special string means more complex instructions and lower usage.
With Cloudvox, SMSes use the same phone numbers as your phone call apps do.  Instructions for end users can be ridiculously simple: "Call or text 206-555-1234″.
Any Web app on a Rackspace Cloud Server can receive an SMS via HTTP, and can send one the same way.  Activate new numbers in any area code, even via API.  No minimums, just pay as you go.
To join Cloudvox's SMS beta, sign up then email support@ or open a support request.
ACTUAL PORTABILITY
The telecom industry has a long, painful history of single-vendor lock-in.  Part of Cloudvox's value is to bring meaningful portability and standardization to telecom.  Cloudvox is built on top of Asterisk, and the full power and portability of Asterisk is available to our customers.
That means your apps are your own, not locked to us.  You control your own destiny.  Move to your own infrastructure if you want.  Single-vendor apps died in the 80s.  We want you to use Cloudvox by choice, not because you created a "Cloudvox app."
For the same reason that Rackspace supports Cassandra[6] and Drizzle[7], Cloudvox commits to Ruby- and Asterisk-related open source projects, including the Ruby Adhearsion client library and the process monitoring server "god."
DON'T CODE?
We also have ready-to-use and ready-to-integrate apps for common tasks, from one-line embeddable click-to-call Javascript to tracking phone calls in Google Analytics for marketing effectiveness.  These can interact with HTTP scripts on Cloud Servers as "glue code," and are perfect for starting fast or when coding isn't an option.
GET STARTED
Visit cloudvox.com[8] to sign up for free, or cloudvox.com/tour[9] to take a full tour.
Endnotes:
Cloudvox is a featured partner on our Cloud Tools website.: http://tools.rackspacecloud.com/
paul.ford@rackspace.com: mailto:paul.ford@rackspace.com.
Rackspace Cloud Servers: http://www.rackspacecloud.com/cloud_hosting_products/servers
Rackspace Cloud Files : http://www.rackspacecloud.com/cloud_hosting_products/files
http://gist.github.com/204820: http://gist.github.com/204820
Cassandra: http://www.rackspacecloud.com/blog/2009/09/23/the-cassandra-project/
Drizzle: http://www.rackspacecloud.com/blog/2010/03/13/rackspace-and-drizzle-its-time-to-rethink-everything/
cloudvox.com: http://cloudvox.com
cloudvox.com/tour: http://cloudvox.com/tour
Source URL: http://www.rackspace.com/blog/place-and-receive-phone-calls-and-sms-from-your-rackspace-cloud-server/
---